"I seem to be having tremendous difficulty with my lifestyle."
The models I made for the CGTalk "Icons of Sci-Fi" HMC. I didn't actually get around to finishing them on time for the challenge, but they were fun to do. The Hitchhikers Guide has always been my favourite Sci-Fi series, and I've listened to the radio shows more times than I can comfortably comprehend. The movie was a really fun adaptation of the series too, and in particular I think they nailed the look of the characters and the world… er… galaxy.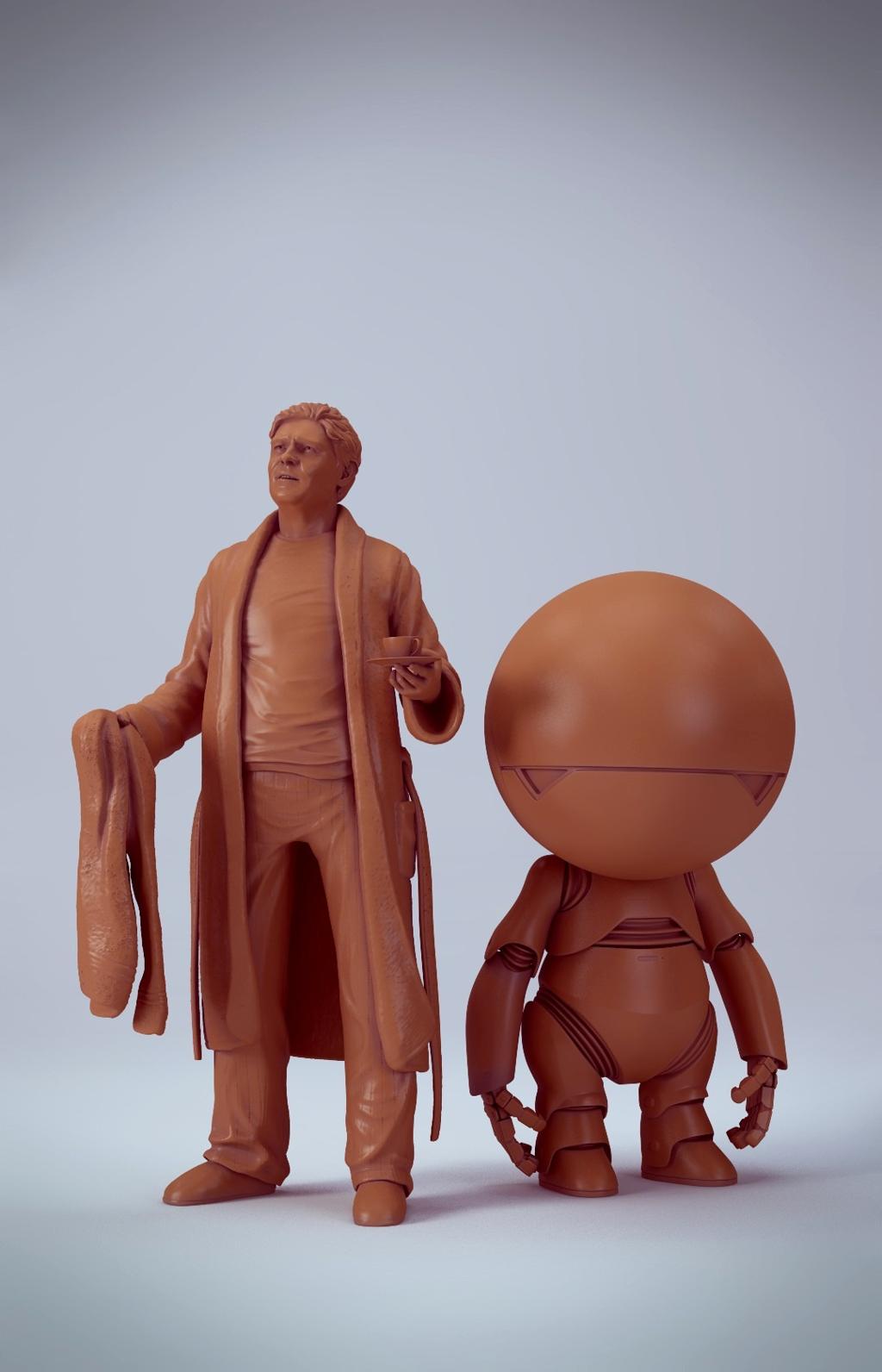 Marvin was modelled mostly in blender, Arthur mostly in zbrush. Rendered in V-Ray and postwork in Blender/GIMP. I might find time to texture Arthur at a later date, but for now I'm leaving them as a clay render.
Arr (Apr 06, 2011)
U are really good artist and very nice sculpting in Zbrush. Can u advice me some good tutorial for Zbrush? Many peoples said, that its really user-friendly but i dont think so, the zooming is really wierd. Hold Alt + Right click, it takes so much time.
Ben Simonds (Apr 06, 2011)
Still in development yes. But very much functional at this stage. I'm using v-ray standalone, which is basically v-ray for maya, without the maya bit (which makes it much cheaper, which is nice).
Arr (Apr 06, 2011)
V-Ray / Blender is still in development no? And if u are using v-ray, it must be v-ray for maya right?

Nice result
ScaroDj (Mar 21, 2011)
lol I always fall for the Hitchhikers Guide style blog post tittle :P

They're really nice, I'm particularly fond of the robot :)
murray (Mar 22, 2013)
Hello,

Great render setup. I am interested in doing something similar. Would you be able to offer any tips on setup?

Many thanks,

Murray
Ben Simonds (Mar 22, 2013)
I dont think I have the file handy any more, but I think it was a pretty simple setup - a couple of big area lamps, and just a simple orange plastic type material on arthur and marvin. For the cavity-type effect I just took an AO pass and used it as a mask for reducing the saturation and tweaking the hue a bit in the crevices. Hope that helps!
arthur dent, blender, cgtalk, douglas adams, hardcore modelling challenge, hitchhikers guide to the galaxy, hmc, marvin, paranoid android, quick projects, robot, sci fi, sculpting, v-ray, zbrush — Mar 20, 2011